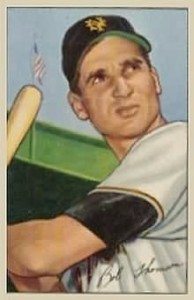 Slugger Bobby Thomson, the batsman behind "The Shot Heard 'Round the World" in 1951, has left this world. He was 86. Major League Baseball's first (of many, I hope) tributes can be found here.
In a March 1 blog post, I shared a kind letter from Thomson explaining his nickname, "The Flying Scot."
He wrote "The Shot Heard 'Round the World" (complete with date) for all collectors requesting the inscription. No charge for his autograph, nor the extra tagline. For years, he blessed the hobby world with his humility, kindness and generosity.
Tomorrow isn't guaranteed. Write your heroes TODAY.