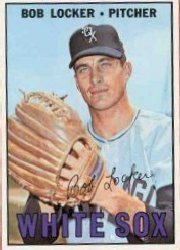 That awesome mustache wasn't the only reason I was cheering for Bob Locker with the A's and the Cubs. I wanted a fellow Iowa native to sparkle in the bigs. When he replied, he included a photo noting that we were fellow Iowans.
I asked about his career-high 77 appearances for the 1967 White Sox. Did he ever calculate how many pitches he threw that year, including all the time he spent in the bullpen? Locker replied:
"Those were different times. I remember warming up in the second inning…again in the middle, and still going in in the seventh to close out the game. The mental aspect was the most difficult."
What about 25.1 consecutive scoreless innings in 1968? News to Locker!
"I am astounded…I had such a streak…the media obviously didn't (know) either."
I asked about how Locker concluded his career with Oakland and the Cubs. This meant he was working for two fabled owners, Charlie O. Finley and Chicago's Philip "P.K." Wrigley. Locker wrote:
"Charlie Finley was an amazing guy. One of the great examples of free enterprise and ingenuity. Thanks to Charlie, I have two [World Series] rings and great memories.


"Never met Mr. Wrigley, but he was a benevolent owner. I actually made $53,000 but think I earned my keep in '73. But thanks to Marvin [Miller, player's union president] I make more than that…for the rest of my life."
I name-dropped in the letter. Being a fellow Iowa State alum, I mentioned that I had met Locker's college coach "Cap" Timm once. Then, I pointed out that I lived less than an hour from his old White Sox and Pilots batterymate, Jerry McNertney (who was a college teammate).
Timm's name was circled.
"The reason I had a major league career. Great man!"
Gratitude remains central in Locker's success. Look up "Thanks, Marvin," an impressive website designed to get Marvin Miller elected to the Hall of Fame. Look at the player testimonials. When Cooperstown calls, Miller can say, "Thanks, Bob!" The Iowa native is pitching like the old days. Let's hope baseball pays attention.