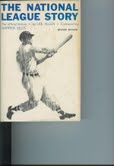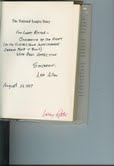 Here's one more gem from R. Plapinger Baseball Books. If a book was EVER published, trust Bobby to find a copy.
(Reader advisory: to fully appreciate the forthcoming tale, it's important to know a bit about the huge contributions to baseball history Lee Allen made. Start here, with a tribute from the SABR Bio Project. Now, back to Bobby…)
"My other "inscription story" is somewhat more personal. I was lucky to be one of the hundreds of people who was friends with Lawrence – Larry – Ritter – author of what many still consider to be the single best baseball book of
all time, "The Glory of Their Times".
(Yes, it's true. The Glory of Their Times: The Story of the Early Days of Baseball Told by the Men Who Played It

redefined first-person baseball history. It's a must-have title for any baseball fan.)
"One time Larry generously allowed me to buy some books from his personal
library & one of the ones I picked was "The National League Story" by Lee
Allen – which Allen had inscribed to Ritter

"For Larry Ritter –
Companion of the night
(at the Tuscany, Some indescribable (ALLEN's spelling…)
German place + Bill's)

With real affection
sincerely
Lee Allen
August 21, 1967″

Allen was known to enjoy more than a few drinks & back then, I think, so was
Larry. I've always wondered what it might have been like to have
accompanied the two of them on "the night".

Remember, Bobby Plapinger is the "go to" guy for getting hard-to-find baseball books. (He's great at finding unsigned and autographed editions.) He's never let me down. Write him at baseballbooks@opendoor.com