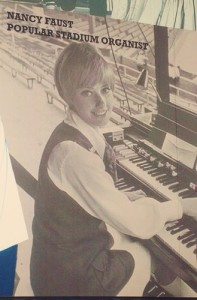 My wife is a gifted piano teacher. "If you're going to make a mistake, make it a big one!" she encourages her students. In other words, don't be timid. When swinging, go for the fences.
That's what I did writing to another keyboard artist, Nancy Faust. She's been the team organist for the Chicago White Sox since 1970. She'll be retiring at season's end. In my Hall of Fame, I'd give Nancy some real estate for introducing Steam's Na Na Hey Hey (Kiss Him Goodbye) as a ballpark standard.
Everybody gets three strikes. Therefore, I asked three questions:
1. You were Harry "Take Me Out to the Ballgame" Caray's first accompanist. What are your memories of creating a new baseball tradition?
2. What are your memories of the 2005 World Championship season?
3. Besides Jack McDowell, what White Sox players have impressed you most with their musical knowledge or abilities?
My reply in care of the team included a personalized 4-by-6 color photo and a signed team-issued card. Thoughtful bonuses I received with gratitude. However, no answers.
That's okay. I took my cuts. Play on, Nancy!