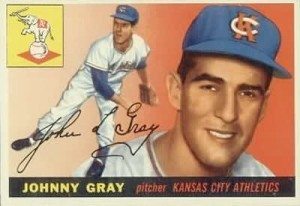 Pitcher John Gray learned that you're only as good as your co-stars. Pitch for a contender. Look like a contender.
His last win in the majors came with the 1957 Indians. He twirled a three-hit shutout against the Orioles that July 30.
Without whining about four years of inconsistent suport from teammates, Gray pointed out in a kind letter that a pitcher doesn't win — or lose — on his own. Gray wrote:
"I got a few runs for a change and I kept the ball down. I had a strong defensive infield."
Tomorrow: Gray reveals his long-lost nickname and its history, a story lost in baseball lore for the last half-century!