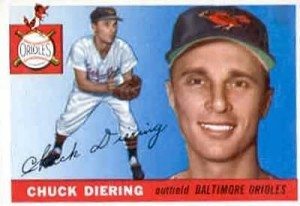 Chuck Diering owns charter membership in the Baltimore Orioles.
One of the first-year players in 1954, Diering won Most Valuable Player honors with the club. Was that Baltimore's top prize that year? Diering explained:
"It was quite an experience. We were not a good team, older players and weak at bat.

"The fans accepted us very well and supported us.

"I was happy to receive MVP award. I was hoping to win new Caddie for Most Popular Player. I still have trophy. Bob Turley won car.

"He probably doesn't have car now. I still have trophy."
Tomorrow: Diering gives his theory on Joe Garagiola's success!