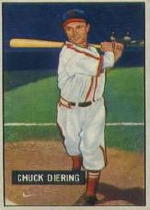 Joe Garagiola was baseball's first Bob Uecker.
The former catcher transformed baseball TV broadcasts.
Always funny, always smart, always himself. Even a boring,
one-sided game would be fun with Joe behind the mike.
Even beyond his retirement years, Joe kept spinning great baseball yarns.
Just Play Ball

is still classic Garagiola. It's a book worth reading.
Chuck Diering debuted with the Cardinals in 1947. Being
a fellow St. Louis native allowed him to know Garagiola well.
Diering wrote:
"I wasn't surprised because Joe was always a good speaker when we attended affairs at times.

"Being a catcher, he always had lots of time to talk to other players and have stories to tell."
The secret to Garagiola's success? All that squatting around!