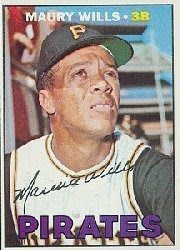 For anyone working to complete an autographed card set, I applaud you. It's not an easy or fast task.
However, I've got to ask two questions, based on the online comments I see from frustrated through-the-mail collectors.
1. Are you sending only one card? I see the "he didn't sign" or "he kept my set card" all the time. Sending one card means you'll get your most desired card back if the person signs.
2. Are you explaining that you're working on a goal of a completed set? The guy you're contacting knows about goals. He worked to make the majors. He worked to keep his job. Every day included a goal for him.
For older sets, I'd think a collector could add, "If you're unable to autograph the card enclosed, I'd be grateful if you could return it, so the card could go back in my set." You might convince an on-the-fence signer that way.
Think it's impossible to praise a cup-of-coffee player, someone with sad stats from a too-brief stay in baseball? Try pointing out that this person wore a major league uniform AND became one of only 660 people to appear in that year's set. Not everyone who plays in a season gets in that year's Topps set, right?
(Maury Wills just seconded me on this one…)