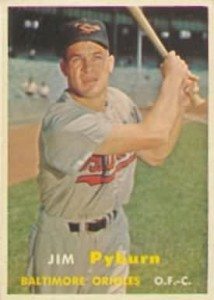 Jim Pyburn's career in Baltimore whizzed by in a mere 155 games. From 1955-57, he couldn't find a permanent home in the O's lineup. He's remembered as one of the team's many pre-Brooks Robinson third basemen.
Pyburn surprised me with his answer to my letter. I asked if he could supply details on his most meaningful home run.
He belted all three on the road, the first against Dick Brodowski in Washington April 27, 1956. Pyburn followed with a two-run shot against White Sox hurler Gerry Staley June 20.
Nearly a year later, Pyburn's last career homer (a two-run dinger) supplied the winning margin in a 4-1 win in Detroit.
He chose to reply in just one word:
"LUCKY"
Thanks again to Retrosheet.org for its valuable insights into another career.