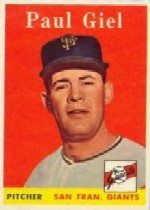 Let me start with the end of Paul Giel's 200 reply:
P.S. – For a guy from Iowa, you did well to marry a girl from Redwood Falls!
When I wrote to him, I told him I was contacting Minnesota-born players. Adding a WHY in your letter gives you an edge on the other "Dear —, Please sign this…" form letters. Don't lie, but use any detail in your own history that might make your letter stand out.
Secondly, expect the unexpected.
I received a 9-by-12 envelope from the Minneapolis Heart Institute Foundation. I was ready to recycle this unopened. I would have missed the surprise — one autographed 8-by-10 of Giel as a Gopher gridiron star battling Southern California in 1953.
Lastly, I should add my theory about Giel altering his baseball job history, failing to mention the one horrid final game he pitched for the 1961 Athletics.
I think he WISHED he had retired. I think he WISHED he had remained a Twin.
He didn't log even one whole season with the Twins. But he remains a Minnesotan forever.