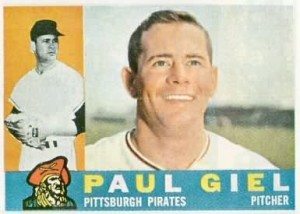 Paul Giel remains a University of Minnesota legend. He earned All-America status in football and baseball, but capped an illustrious gridiron career with Heisman Trophy runner-up honors.
Giel shunned a three-year Canadian Football League contract and the Chicago Bears in favor of baseball. A bidding war ended with a then-record $60,000 signing bonus from the New York Giants. He wrote to me in 2000.
"I chose professional baseball because I had a great (by those days' stands) offer from the New York Giants. Talk about luck! The Giants won the National League Peannant and beat Cleveland in the World Series.

I was with the Minnesota Twins for a few months in 1961 when the Washington Senators moved to the Twin Cities. I only pitched in a few games in relief and did nothing worth noting. I retired from baseball when they wanted to trade me to Kansas City."
Giel's career summation is worth noting. Despite his claim that he didn't join Kansas City, Giel pitched one game for the Athletics. After giving up seven earned runs in 1.2 innings, he ended his career.
Giel died in 2002 at age 70. He was commemorated by the New York Times, a paper that remembered his "bonus baby" status with the local Giants.
Tomorrow: two important lessons Paul Giel taught this autograph collector.