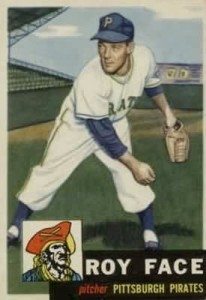 Fans who rave about Bruce Sutter and the last generation of split-fingered fastball artists can't impress old-school Pirates fans. Followers of the Bucs in the 1950s and 60s are sure they saw it all before, in the likes of Elroy Face.
Signed by the Phillies as an amateur free agent in 1949, Face was drafted by the Brooklyn Dodgers in 1950. On Dec. 1, 1952, he was chosen in the Rule 5 draft by the Pirates. Pittsburgh used him in 41 games the next season. His classic career highlights included 193 saves, three All-Star appearances and "NL Fireman of the Year" honors from The Sporting News in 1962.
Face remembered that special pitch and more in a kind reply:
"In 1954, I was in New Orleans to work on an off-speed pitch to go with my fastball and curve. I worked on it about the first half of the season, and started using it in games. It helped me make it back to the major leagues."
About his 848 career games pitched, he wrote:
"I don't have any idea of how many pitches I threw in the bullpen. In 1961 and 1962, Jack Hernon, a writer, kept track of the times I either pitched in games or warmed up. He said it was somewhere between 110-115 times each year."
How dominating was Face in 1959? Try an 18-1 record. He hasn't forgotten that one imperfection that year:
"What I remember of my one loss in 1959, was to the Dodgers. Charlie Neal got a broken-bat dribbler through the left side of the infield, between Don Hoak at third and Dick Groat at shortstop. That broke my 22 straight winning streak."
The all-star resource www.retrosheet.org uncovered details of Face's single loss here.