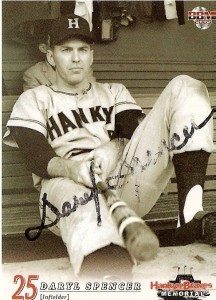 Yesterday, former Giants infielder Daryl Spencer shared his memory of his team's Polo Grounds — and New York — finale. Today, he looks back on a second career, in a country where he launched 152 NPB home runs. It's small wonder that his size and monstrous bat earned him such a nickname!
Reflecting on the Japanese Henry Aaron, Spencer wrote:
"Sadaharu Oh was certainly a great-great player. He would of bee3n a STAR if he had played in the U.S. big leagues. I'll say this, he got the benefit of a lot of close calls on balls and strikes. If he took a pitch, the umpires almost always called it a ball. Of course, I think the great hitters in the U.S. got the benefit of the close calls here, too.

Hope this brings some light to your questions you asked. Thanks for writing me.

Daryl Spencer."
When was the last time an autograph signer thanked YOU?
A standing O goes out to SABR member Bob Rives for his fine bio of "The Monster," offering untold insights into Spencer's Japanese career. Check it out here!