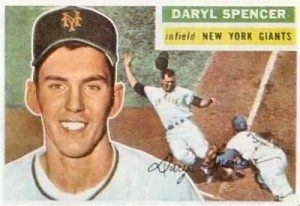 Daryl Spencer slugged his way through TWO baseball careers.
Some might remember the Wichita native popping home runs in the majors from 1952-63.
His baseball career rebirth came in Japan for seven subsequent seasons.
The generous former Giant reflected on both baseball journeys in a wondrous handwritten reply to questions. He noted:
"The home run off Don Drysdale (first by a San Francisco Giant) was the first HR hit on the West Coast in the major leagues. Opening day 1958. Also in 1958, Willie Mays and I set a National League record of May 12 & 13. We each hit 2 home runs in consecutive games. That is still a Nat'l League record. It was against the LA Dodgers.

I guess my most vivid memory of the Polo Grounds was our last game there in 1957. The Dodgers and Giants had announced that they were moving to California the following year. We players had to make a wild dash to our clubhouse (it was deep in center field) after the game was over. The fans went crazy. They were grabbing everything they could. I lost my cap but managed to get to our clubhouse okay. Today you see fans rushing on to a playing area all the time, but that was very unusual in the 1950s.

The Polo Grounds were very unique. The short LF and RF stands resulted in a lot of short home runs. I guess the most famous one was hit by Bobby Thomson to beat the Dodgers in the 1951 playoff game. And of course the great catch by Willie Mays against Vic Wertz in the 1954 World Series will always be a great moment in Major League Baseball."
Tomorrow, hear from "The Monster" about one of Japan's greatest stars.