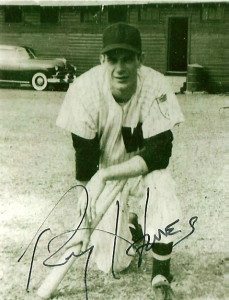 Roy Hawes is a working-class Roy Hobbs.
You remember that Robert Redford character in The Natural? That Roy got his second chance at glory — one more season to make good.
The real Roy Hawes got only one week.
But what a week!
Hawes was promoted to the Washington Senators, debuting Sept. 23, 1951. He went 1-for-6 in part-time duty. He performed flawless, error-free, at first base throughout the week. Back in the minors the next year, Hawes continued through the 1960 campaign, never to see the majors again.
Still, he's cherished those magic moments. He wrote about his promotion:
"My owner at Sherman-Denison, Texas (Big State League, class B team) informed me. I was thrilled. Quite a jump. September 1950 class D to the majors in one year? God moves in mysterious ways."
And that hit against Philadelphia Athletics pitcher Bob Hooper?
"I took the first pitch (fastball), missed the second pitch. He threw me a knuckleball on the next pitch and I singled up the middle."
He signs:
"Good luck. God bless you and thanks for the honor. Roy Hawes, Washington Senators, 1951."
Yes, I bolded those last four words. Those are words worth remembering. It's my honor to know that some players savored their precious "cups of coffee," sharing the sweet taste with any fan who asks.