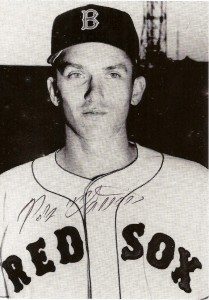 Pitcher Nelson Chittum packed a fair share of history into a three-year career.
His first pro season produced a 23-7 record and California League Rookie of the Year status in 1956. Chittum debuted with St. Louis in August, 1958.
When asked about Stan Musial, Chittum wrote:
"Stan was a great player and a very outgoing person."
Chittum didn't add about Musial's penchant for forgiveness. Chittum earlier told the fantastic website www.baseball-reference.com that, upon failing to cover first base on a bunt, Musial told the young hurler, "Don't worry about it, kid."
Swapped to Boston in the off-season, Chittum paid immediate dividends: a 3-0 record and 1.19 ERA.
From being a teammate of a St. Louis superstar, Chittum became another supporting cast member for Ted Williams.
"Ted was also a great player and really an outgoing person only to other ballplayers," Chittum noted. "He did not like sports writers."
Chittum was in uniform July 21, when teammate "Pumpsie" Green ended the last chapter of baseball's segregation. Boston became the last club to use African-American talent.
The color barrier came down after former manager Pinky Higgins vowed he'd field an all-white lineup as long as he had anything to say about it. Higgins was replaced less than a month before Green's debut.
"I did not know how Higgins felt," Chittum added. "Pumpsie was a really nice person."
Three history makers in three years. Chittum remembers and appreciates them all.