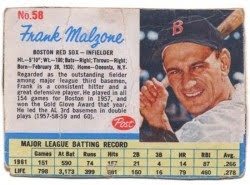 Frank Malzone is one of Boston's best-kept secrets. He packed
six All-Star appearances and three Gold Gloves into a decade,
earning him Red Sox Hall of Fame status in 1995.
I enjoyed reading
about his memories in Game of My Life: Memorable Stories of Boston Red Sox Baseball
.
I wrote to him, hoping to learn more. Instead, I feared the story might end
all too soon.
"Simple answers. Please, no more questionnaires. It's asking a lot. Frank."
I didn't send him a 2010 census form. I asked only three questions:
1. After 1955, you switched from #43 to your famous #11. Why?
"Never wore #43. Had #7 and switched to 11. Did favor for another player."
2. Your two years of Army service (1952-53) delayed your career. How did you feel about being off the diamond so long?
"No play some in the Army."
3. How did you feel about coming in second in 1957 A.L. Rookie of the Year balloting?
(Yankees shortstop Tony Kubek won.)
"New York writers wanted me to be ineligible."
Was Malzone joshing me? Was his memory failing?
I contacted the website where I found his jersey numbers, www.baseball-almanac.com.
This site is a wealth of free information about all things baseball. If you can't make it to Cooperstown, here's the next best stop for instant history.
Webmaster Sean Holtz is an all-star. He replied to my Malzone question in less than 24 hours.
Hello Tom,

Thank you for visiting & contacting Baseball Almanac.

I put up his Spring Training by accident and I apologize for the confusion I caused. He did actually start the season with number seven, but Billy Consolo wanted it and Malzone was willing to change with him. I have:

http://www.baseball-almanac.com/players/player.php?p=malzofr01
Fixed Malzone's page.

http://www.baseball-almanac.com/teamstats/roster.php?y=1955&t=BOS
Updated the team roster.

http://www.baseball-almanac.com/players/player.php?p=consobi01
Fixed Consolo's page.

Take care & thanks again,

Sean

Baseball Almanac, Inc.
"Where what happened yesterday, is being preserved today."
A tip of the cap to Mr. Malzone. He didn't like it, but he still took time to shine a bit more light on his admirable, overlooked career.