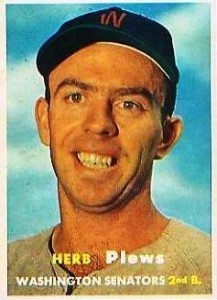 Herb Plews last played in the majors in 1959. However, even at age 81, no one will sneak a pitch past him.
I sent the retired infielder a couple of questions. I printed out a piece of stationery reading, "Herb Plews, Major League Infielder, 1956-59."
Herb chose to use the back of my letter for a reply. He did supply me with a major league effort filled with humility, humor and insight.
"Had to laugh at the heading for the stationery. using that might indicate a bloating between the ears," he began.
Anyone thinking Plews faked his way through four seasons in the bigs should think again. SABR member Bill Nowlin, a Boston Red Sox expert, wrote an impressive, well-researched biography on the Montana native who logged a brief stay with the 1959 BoSox.
Boston acquired Plews just weeks before the arrival of "Pumpsie" Green, the man who helped the last team take down baseball's color barrier. At my time of writing, I didn't know the whole story. Plews wrote:
"I wasn't with Boston when Pumpsie arrived. Bill Jurges, who was a coach with the Senators when I was there, became manager, replacing Mike Huggins. Jurges and I never did see eye to eye, so when he arrived, it was my time to take a hike. That ended my major league days."
Plews chose not to spell out the 1959 specifics: his demotion to the minors cleared the roster spot needed for Green's arrival.
From the fantastic archives of www.retrosheet.org, I found that Plews tallied FIVE four-hit games during his career. He reflected on one:
"One of those games was against the Yankees with Turley pitching. They were all doubles. Trying to stretch the last one, I was thrown out at third! Jurges threw a hissy!"
Plews could have joined the roster of retirees bitter at their bad breaks in baseball. He was saddled with the struggling Senators, then failed to get a real chance with the contending Red Sox. Instead, he reflected:
"Looking back, I would have been better off staying with the Senators. Billy Consolo (included in the trade from Boston) got in a couple extra years with the Senators. I missed my pension by a couple months.

"However, Tom, I felt lucky to have played when I did. I saw some of the best players ever. Looking forward to another exciting season of baseball. Continue your loyalty for our grand ol' game.

My best regards always,

Herb Plews

P.S. (noting my return address) That little school from Iowa (UNI) sure spoiled my bracket!