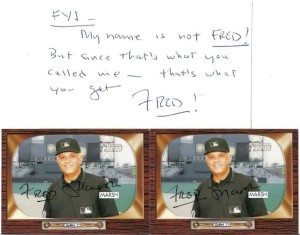 One of the best bargains in the autograph collecting hobby is www.sportscollectors.net. For a $14.99 premium yearly subscription fee, you get access to tons of current mailing addresses for countless names from baseball's past and present.
Additionally, collectors post their TTM (through the mail) results. A message board, my favorite feature, allows collectors to detail their individual victories and setbacks. This feature is a daily education.
To my SCN brethren, hobbyist Barry Urbanek, I send a grateful standing O. Barry posted his misadventure with umpire Randy Marsh. Barry sent a 2004 Bowman card to Mr. Marsh, along with an envelope addressed to "Fred Marsh."
Been there, done that!
Barry wrote on SCN that he was "called out on the play" by Marsh.
"FYI — My name is not FRED! But since that's what you called me, that's what you get. FRED!"
Guess how one up-in-arms umpire autographed his card?
This cautionary tale is important. Everyone in baseball wants to be remembered. They pay attention to details as small as an envelope.
Barry wrote me later to say that he was unsure if he'd try writing RANDY Marsh again, worrying that Marsh would have saved Barry's contact info. I hope Barry tries again. This could be the first "do over" ever granted by an ump. It's clear that Marsh is willing to write notes to collectors. I'm betting he'd "re-autograph" his cards. I think the "before" and "after" stories would make for one classic collectible.
Go for it, Barry. Put the MEMORY in "memorabilia." Make it your own.
Besides, it's not like Marsh will be calling balls and strikes against you this year!
What's the biggest surprise you've gotten in a baseball TTM response?