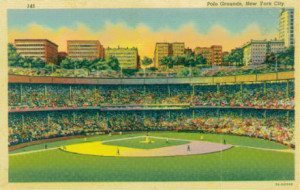 World War II veteran Bob Usher claimed 18 career homers over a decade of major league service (1946-57). The majority of his playing time came in a Reds uniform.
He swung for the fences in some classic ballparks, but had to play the outfield in one maze known as Cincinnati's Crosley Field. Between the defensive challenges, did he remember details of any favorite round-trippers?
Usher wrote:
"Tom —

Playing left field with the sloping turf was a REAL chore.

Three (home runs) come to mind:

a) My First home run. Hit it off left-hander Woody Abernathy July 28, 1946 in the N.Y. Polo Grounds.

b) Hitting a home run in Yankee Stadium off Bobby Shantz in 1957.

c) Hitting a game-winning 12th-inning home run on Opening Day 1950 off Johnny Schmitz of the Cubs.

All the Best,
Bob Usher"
The order of details can be telling. Who, where or when? What facts would you deem most important from your baseball milestones?