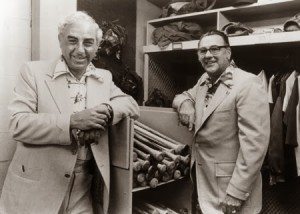 All Cubs fans of the early 1970s knew
these voices: Vince Lloyd (left) and
Lou Boudreau. The pair let listeners know
an Illinois native was in uniform!
(photo courtesy WGN Radio)
Roe Skidmore got special pleasure out of his roots.
For starters, he was no average Cubs prospect. He was an ILLINOIS NATIVE playing for an Illinois team.
This fact wasn't lost on the media.
Skidmore noted:
"Jerome Holtzman and Rick Talley were newspaper writers at that time, and they did several articles on me being from Illinois. Jack Brickhouse, Lou Boudreau and Vince Lloyd also had me on the radio pre-game show several times."
Despite his brief time as a Cub, Skidmore later felt the pride of being connected to a winning team. How?
"I currently scout for the Baltimore Orioles, but scouted for the Phillies for several years before coming to the Orioles. When with the Phillies, I was instrumental in signing Ryan Howard (from St. Louis area) and Jason Werth (Springfield, IL area)."
Skidmore played more than 1,200 games in the minors. He earned his seniority — and Topps card. Thanks, Roe!