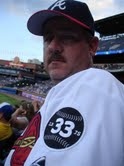 Patrick Carter
Patrick Carter is one skilled autograph collector. You think it's tough trying to convince a baseball celebrity why you're worthy of an autograph? Imagine convincing a baseball history-maker, an anonymous hero, that he is a worthy autograph for anyone.
That's right. This devoted Braves fan has gone after scouts, front office personnel, anyone who has played a part in team history. That's why I wanted to know his own hobby history. Here's our exchange:
Q: Why do you cheer for and collect the Braves?
A: Growing up in Indiana, my dad was a big Cincinnati Reds fan. (And I do fondly remember the Big Red Machine!) He often listened to their games on the radio when he was out working in the garage, or watched the games on tv on Sunday afternoons after church. As a lot of kids do, I used to cheer for the other team just to get a rise out of my dad. After a while, I started paying more attention, and it didn't take me long to realize that a guy named Hank Aaron was a very special player, and I pretty much adopted the Braves as my own favorite team just because of how much I admired Hank. After Hank left for Milwaukee, and then later retired, it was tough being a Braves fan through the 80's, but Dale Murphy and Bob Horner kept me interested in the Braves. Obviously, everyone knows what happened with the Braves from 1991 on, so it is now very easy to say I'm a Braves fan for life.
Q: How long have you collected Braves autographs? Who do you include (Boston, Milwaukee and Atlanta)? And who, besides players, are in your collection? It seems from photobucket that you have scouts and GMs. Other team personnel? Are there types of team employees you would NOT collect (batboys, bullpen catchers, etc.)?
A: I got my first Braves autograph when I was 12 years old. I collected baseball cards religiously, trying to build complete sets from wax packs. (I remember chewing the gum from those packs, too.) I really hadn't ever given much thought to getting autographs, because I didn't really know anyone who collected them. But one day I was at a local card shop, and they had a Hank Aaron signed baseball in the showcase. Somehow I talked my dad into giving me the $20 I needed in exchange for some yardwork. That baseball and a signed
8-by-10 of Mickey Lolich (my Little League team was the Tigers) were the only signed items I owned before I left home and joined the military after high school, when my collecting pretty much stopped.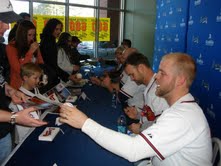 Patrick is a well-placed collector. This Georgia resident
has frequented Braves Caravan stops, finding the
likes of Brian McCann (arm up) and David Ross.
While I was stationed out in Utah, a buddy of mine left the Air Force and started his own hobby shop, and the next thing I know, I'm buying cards again. In 2001, I was stationed at Warner Robins, Georgia…less than a hundred miles from Turner Field. To put it lightly, my passion for Braves baseball has grown a lot now that I'm "in the neighborhood". I started making a collection of Atlanta Braves players, but expanded to include the Milwaukee Braves because Warren Spahn never played in Atlanta…but what Braves collection could be complete without Spahn? I expanded the limits again to include the Boston Braves when I had the odd chance to add Tommy Holmes and Ralph McLeod a couple of years later. Only about 80% of my collection is shown in my Photobucket gallery, as much of it has been packed away for many years. From time to time, I'll open a box that has things I had completely forgotten that I had! When I come accross them like that, I try to photograph them before packing them away again. I am holding out on my desire to display the collection until we build a new house, and I can dedicate a game room that is purpose built for displaying it.
My collection is open to anyone who is or ever was, a member of the Braves. Players, managers, and coaches are priority, but I never pass up the opportunity to add broadcasters, executives, or anyone else that is closely associated with the franchise. That is really the only limitation to my collection now…must be closely associated to the team. I have items signed by former owner's Bill Bartholomay and Ted Turner, chief executive Terry McGuirk, president John Schuerholz, general manager Frank Wren, current assistant general manager Bruce Manno, and former assistant general manager Dayton Moore. I also have broadcasters Chip Caray, the late Skip Caray, Joe Simpson, Pete Van Wieren, Jim Powell, and Don Sutton. Sutton was a Hall of Fame pitcher during his playing days with the Dodgers, Angels, and others, but only found his way into my collection through the broadcast booth. LOL It certainly doesn't hurt that he is an absolute gentleman when you meet him. Very personable and down to earth!
A couple of names I would really like to add which are missing right now, are longtime coach/consultant Bobby Dews, coach/bullpen catcher Alan Butts, head trainer Jeff Porter, strength and conditioning coach Phil Falco, Director of Scouting Tony DeMacio, and former director of player development Kurt Kemp. The more folks like this I can add, the stronger my collection is in regards to truly telling the story of the franchise.
Dream additions, (those I will get if I ever hit the lottery!) would be Rabbit Maranville, George Sisler, Rogers
Hornsby, Cy Young and Babe Ruth. For those who didn't know, the Babe was a Brave in his final professional season, 1935.
Q: Are you near Atlanta? Have you had chances for in-person autographs, whether at the ballpark or area signings?
A: As mentioned above, I was stationed in middle Georgia during my days in the US Air Force. My wife and I decided to settle here after my retirement from the military, and we currently reside in Kathleen, Georgia, about an hour and a half drive to Atlanta. Most items that I get signed today are done in person at the stadium, or during the Braves Caravan in the winter months. I try to keep a close watch for any local signings, and attend them when they don't conflict with my work schedule.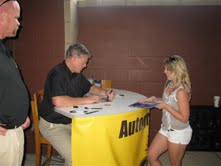 Daughter Kayla meets Dale
Murphy, signing at a Jacksonville
minor league game.
I recently had the opportunity to drive to Jacksonville, Florida to catch a Minor
League game between the Jacksonville Suns and Mississippi Braves, only because Dale Murphy was making an appearance, and I had an '80's powder blue jersey that needed his signature! The Braves "Alumni Sundays" events during Sunday home games have been invaluable to me in acquiring autographs from many retired Braves players. Only in the past couple of years have I started getting autographs through the mail.
My wife and daughter have been very helpful to me at times. When they go to events with me, we can split up and cover more ground. My daughter actually enjoys chasing the autographs with me, and occasionally my wife will play along.
Q: In general, what do you say in your letters, and what do you ask to have autographed?
A: My item of choice for autographs is always a Rawlings Official Major League baseball (I have about 300 of them now), but I have been adding a lot of 8-by-10 and 11-by-14 photos lately. Photos and cards are much easier to deal with in the mail, so I usually try to get the baseballs signed in person, and send flats in the mail. I always try to make sure when writing someone that I know the particulars of their days with the team.
I always try to share one of my favorite moments from their career, or a special moment in a particular season that I find interesting or impressive. I am always sure to ask for the autograph very politely, and always thank them for giving me a moment of their time. My approach is that these folks don't owe me a thing, and any response I receive is very appreciated.
Q: What kind of response do you get from overlooked Braves, like scouts? That is, do you feel they haven't been asked for autographs much? What kind of specific reasons do you cite for writing them (such as naming famous Braves they signed)?
A: I haven't sent many of these requests through the mail since the information for those addresses is usually pretty tough to find, but when I approach them in chance encounters, many times they seem a little surprised that a fan actually (1) recognized them, and (2) wanted an autograph from them. I have found these to be some of the most humble and appreciative guys you could ever meet, and I always enjoy the experience. In a recent request to Bob Johnson, I was sure to praise his work in making the Braves farm system one of the deepest in the game in terms of talent. I also complimented the scouting and development group for the efforts they are making in Latin America and Europe. I feel the Braves have stepped out as frontrunners in these efforts to bring more foreign talent to the Major Leagues.
Q: Can you share any examples of notes or letters with autograph responses? Were the answers unsolicited, or did you ask questions?
A: I keep these letters boxed up, so I don't have any good examples handy right now, but many responses I get are simple "thanks for being a fan", "good luck with your collection", but from time to time someone will really respond to a letter I have written to elaborate on something I have mentioned. I rarely ask a list of questions as I find they are rarely answered. Most are short and simple…wish you all the best…or something to that effect.
Q: You have some signed business cards. Were they requested? What do you think is special and unique about business cards?
A: The first business card I received was completely by chance. John Schuerholz had signed one by request for an older gentleman during FanFest a few years ago, and the two had a lengthy conversation. I was in line behind the guy, and while Mr. Schuerholz was talking to him, he signed another business card and then gave it to me when he signed my baseball moments later. I thought it was a pretty neat item, so I started trying to get business cards for the front office executives. A couple I had to get off E-bay, but the others I have requested in person. They are kind of like a baseball card for guys who don't suit up in team uniforms, and wind up on baseball cards, so they fit most any collection very well.
Q: Do you have a favorite Brave or two that you've gotten by mail?
A: A couple of years ago, I sent a photo of Ralph Garr and Dusty Baker from the early '70s, and both were nice enough to sign and return in just a matter of a few days. Ralph added his "Roadrunner" inscription for me. From the time I found this photo, it was less than two months that I had it framed. Not bad when you consider it made a trip to Texas, a trip to Ohio, and a trip to the framer's. This is one of my favorite pieces, and was my first framed piece.
Q: Do you make customs, or have them made? What do you do when you can't find a picture or card to get signed? (Have you found team-issued photos from the past?)
A: I have only recently started making custom index cards for some of the older players that I don't have cards for, and for my '57 World Series project. The recent passing of Wes Covington and Ernie Johnson motivated me to stop dragging my feet on this one! I immediately mailed out to all of the remaining living players from that team. Many of those requests are somewhere in their travels now, and I look forward to them showing up in the mailbox in the days ahead.
Q: Current projects to expand your collection? Future goals in the hobby?
A: I am currently working on acquiring autographs from all of the 1957 Milwaukee Braves World Series team as a project that I want to get framed. Also, each month I try to add 5 items to grow the collection. For the 5 items, I try to add (1) a player on the current roster that I don't already have. (There are currently only five or six of those players remaining.), (2) One other player from any era that I don't already have. (3) One deceased player. (4) One prospect that hasn't been to "the show" yet. And (5) a replacement for an item already in my collection which is damaged, or of poor quality.
Q: Advice for new team collectors?
A: Before you buy an autograph off of E-bay or any other website, be sure to research, and look at several known good examples, and educate yourself as much as possible before spending your money. Even experienced collectors can get burned from time to time. Also, try to decide on and set a limit to what you want to collect. You ultimately will find something you want that will stretch those boundaries, but if you go into it without limits, your collection will quickly get out of hand. Figure out what you are comfortable investing not only moneywise, but also in time and travel. You don't wake up one day and decide that you want to build a collection, and then "POOF" two weeks later you have one. It is a lifetime hobby that will bring you lots of enjoyment, as long as you control it, and not let it control you!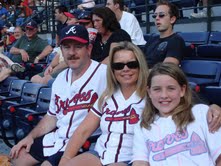 With wife Tina and daughter
Kayla at a Braves game. That's
one winning hobby team!
(All photos courtesy of
Patrick Carter!)
Thank you, Patrick. Just as Patrick offered a salute to his wife and daughter for their hobby encouragement, take a moment to thank friends and family for supporting our collecting.