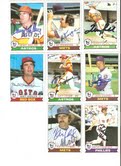 Guys from the
first game Dan
ever attended!
Why?
I'm dazzled by the collectors who can answer that question. When I look at someone's collecting specialty, I want to know how that emphasis (the year, teams, players, etc.) reflects that hobbyist.
Dan Brunetti, who is focusing on autographs on 1979 Topps, knocked the question out of the park. He said:
"That set is my favorite as it is the first year that I collected. My mom couldn't figure out what order I was keeping them in. She would sort them by number, by team, or alphabetically and then I would put them back they way they were before she sorted them. It seems that I has memorized the order I had opened them in and kept putting them back that way. She also claims that I learned how to read by sounding out the player names on the cards. I suspect that the first story has a good bit more truth than the second.
I collected autographs for a time as a kid. My best through the mail has to be Cool Papa Bell. I got Nolan Ryan at an Astros game. Then Ernie Banks and Yogi Berra at a card show. I quit autographs until I got to college at Alabama and they won the football championship in 1992. I collected everything Alabama for several years after that. I got back into baseball autographs in 1999 sending mostly to minor league managers and coaches who were former big-leaguers.
I started back in November and have gotten Ed " Too Tall" Jones, Charlie Joiner, Dave Kingman, and Greg Luzinski plus a few Alabama players (including Ozzie Newsome) since then.
My mom never threw out my cards and I still have the cards I opened that year. Most all of them have at least one crease in them. I thought about sending them out but have opted to buy nicer cards instead. I'm not sure that I made the right decision. I wish I had sent Kingman and Luzinski 1979 cards instead of cards from 1977.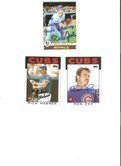 Above: Dan appreciates
personalized responses.
Meanwhile, his son
is savoring TTM
success, too!
My son is collecting the 1986 Cubs by accident sort of. I give him cards for doing his chores and cleaning his room. I gave him Cubs team sets at first. He noticed that Ron Cey was in several years, so Ron Cey was his first TTM. Since then, whenever I send a player from the 1979 set that was on the 1986 Cubs we include that one and send both cards and we both write letters. Since the first note Richie Hebner has signed for us.
My mini-project within the 1979 Topps is to get the players who played in the first game I went to – the Sept 2, 1979 matchup between the Mets And the Astros. I got Kevin Kobel today. He is the Mets pitcher who tallied the win at the first game I went to. Other players from that game I have are Art Howe, Denny Walling, Andy Hassler, Terry Puhl, Ed Kranepool, John Stearns, and Richie Hebner.
My dad saved the program from the game and framed it for me. It has a couple of autographs on it too, looks like Luis Pujols and Jimmy Sexton. I also got the batboy, since he wrote BB underneath his signature."
Two great collections reflecting two people having FUN. That's true value. Thanks, Dan.