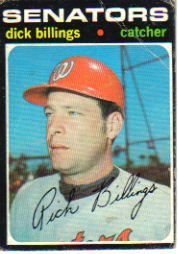 Topps Refused to make Rich Rich.
Read the Sig!
 I loved hearing from former catcher Rich Billings. Some retired players can't get beyond stats. Billings remembers the FEELINGS of trying to be a major leaguer.
He has some good days to savor, including his first career homer off John Hiller and the World Champion Tigers on Sept. 22, 1968. In Cleveland, July 5, 1971, his 3-for-5 day featured a grand slam! Thanks, http://www.retrosheet.org/.
The first question I had was in trying to please manager Ted Williams, once seen as the world's greatest hitter. Billings wrote:
"Ted Williams was a very intense individual who seemed to have 'several' personalities, all at different times. He was the most dynamic personality I was ever around.
He became very frustrated at teaching hitting to us, simply because we didn't have his God-given talent to carry out his instructions."
Billings followed Williams and the Senators from Washington to Texas. How was the transition?
"At first, we were very sad to leave D.C. We knew Texas was football country, but after a year or two, the fans really accepted us."
No one may have felt the Texas heat more than a catcher like Billings.
"The heat didn't seem to be much of a factor, except on days that were a double-header or it got over 100 degrees.


When you're young, I guess the heat is a non-issue. Now, I hate July and August here in Texas."
Yes, you guessed the state where Billings lives. Once a Ranger, always a Ranger?