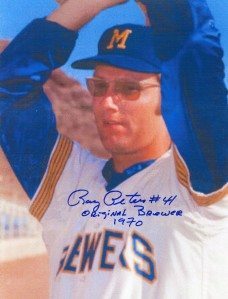 Just two starts in the bigs,
then selling for 99 cents
on ebay? Ray Peters
deserves better!
To be honest, I groaned when I opened the envelope.
I cherish hand-written replies to my questions. A former Milwaukee Brave (whose reply will be shared in the next week) seemed to use a manual typewriter to send a flawless, hand-crafted reply. Look at his page and you'd time-travel back to the 1950s.
But this one? I saw that "Tom" was hand-written atop a preprinted page. Was this an autograph price list?
Hardly!
Ray Peters, a 1970 Milwaukee Brewers pitcher for two games, condensed his baseball life into a one-page narrative. He added details about his minor league adventures, and a note about he ALMOST appeared on two Topps cards. Peters holds the distinction of being a first-round draft pick for the 1969 Seattle Pilots. Teams had tried to draft the Harvard product four times without signing him.
I marveled at seeing his two major league starts summed up in one sparkling paragraph:
"Though my major league career was a matter of days, I was fortunate to pitch against my batting heroes when I was growing up — Al Kaline was my favorite right-handed batter and Vada Pinson was my favorite left-handed hitter. I walked Kaline and got Pinson (who should be in the Hall of Fame) to fly out, after he singled in his first at bat. LUCK plays a great part in sports. In my two innings, I gave up only singles, four of which were broken-bat bloops. Against Detroit I walked two and one batter got a single; I was taken out and the reliever gave up a grand slam home run and I'm sent back to the minors!!! That's life."
By hand, the grateful pitcher wrote with perfect penmanship:
Ray Peters #41 Milwaukee Brewers 1970
#60 Seattle Pilots 1969
— spring training Tempe, AZ"
Remember to look for more Ray Peters-like names as you collect in 2011. Look beyond the statistics and awards. Everyone gets the all-stars. For me, I'd choose prefer the all-star storytellers.
Tomorrow: Remember that all-star train wreck between Pete Rose and Ray Fosse? Cub eyewitness Jim Hickman did, sharing his insight.