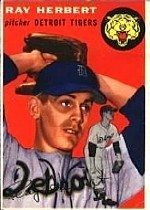 "Pitch count?!? I went
9 innings in my first start.
It didnt matter if you threw
100 or 200 pitches. Just
get them out and win!"
He offered. I accepted.
Ray Herbert jotted just a few lines on his reply. However, he added his telephone number, saying, "Call if you want."
I'm delighted I did.
I felt like Ray's catcher. I asked for details about one of countless important dates in his career. He did the rest.
I chose September 26, 1962. Exactly one year earlier, he homered against the Red Sox. Same team. Same date. Same result!
I asked Ray Herbert about Sept. 26, 1962, when he registered a complete-game victory against the BoSox in Fenway, 9-3. "That was my 19th win."
I paused. "I'm impressed you'd remember the number."
Herbert: "You don't forget a thing like that."
"Oh, really?"
Herbert: "It was the 9th inning. Jim Landis our leadoff hitter handed me a bat. They'd do things like that to give pitchers a break. I said to Jim, 'It's September. A new rookie. He doesn't know me. He doesn't know if I'm a hitter. He's going to throw me a fastball down the middle, and I'm going to hit it onto the roof.'
"He did, then I did."
Herbert remains bemused by his 38-inning scoreless streak in 1963. "I didn't really think about it. Every game is a new game. You just want to go out and win."
I wanted to know about his baseball cards. "Topps never sent us any. We'd never see one, unless something gave us one to sign at the ballpark. I think we got about $125 for appearing on a card."
What was fan mail like during the 1950s?
"There really wasn't any. There wasn't TV like today, so fans didn't know that much about us. If they wanted an autograph, they'd come to the ballpark."
Today's fan mail is a different story.
"I read it all and sign for everyone," Herbert said. "It is an honor to be asked for an autograph."