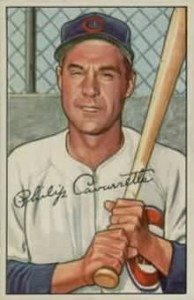 Me!
To celebrate the two-month anniversary of Baseball By The letters, I thought I'd log another first.
On April 15, I wrote to Phil Cavarretta, sending a letter with three questions:
1. What are you proudest of from your 1945 MVP season — and why?
2. What do you remember about family and friends getting to see you, a Chicago resident, play in Wrigley Field for the first time?
3. What was the hardest part about being a player-manager?
In the past, I find that a retiree might solo on one of three questions. The other two might get a "?" or slash-mark. That's fine. Asking three times triples my chances.
My letter came back in the SASE. No autograph. No comments. Nothing.
Searching the signing history in the mail feature on the ever-so-valuable www.sportscollectors.net yielded a valuable clue. In 2004, another collector received his questionnaire returned blank.
(NOTE: I do not send a fill-in-the-blank worksheet filled with questions. I think using the term "questionnaire" in a fan letter is a red flag, making me scarier than a census worker.)
Nonetheless, I took solace in knowing that I wasn't the first inquisitive fan to get shunned by P.C.
At most recent check from the superb autograph website, collectors are batting 88 percent with Mister C. There are 282 successful replies for signatures, the last one coming April 10. Even into his 90s, Cavarretta is still signing.
Will a fan ever get anything more than his name, or the "1945 MVP" notation he'll add on request?
On March 29, 1954, then player-manager Cavarretta was asked by Cubs owner P.K. Wrigley what the team's chances were that year. The skipper informed his boss, completely and honestly. The result? Someone was fired in spring training for his "defeatist attitude."
Perhaps, Cavarretta has been dodging questions ever since.
What's been the best "extra" you've received in a by-mail reply lately?