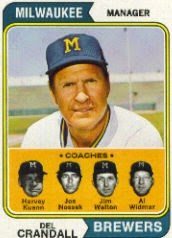 Good news: you're on a card.
Bad news: you have a
shrunken head!
Jim Walton coached first base for the Milwaukee Brewers from 1973-75.
He witnessed the launch of two superstar careers.
Did he see Hall of Fame futures for Paul Molitor and Robin Yount from the beginning? Walton replied:
"They not only were gifted players, but they were dedicated to the game with high character. The stats answer their ability to play the game."
Coming Thursday: Helping Team USA win a gold medal!