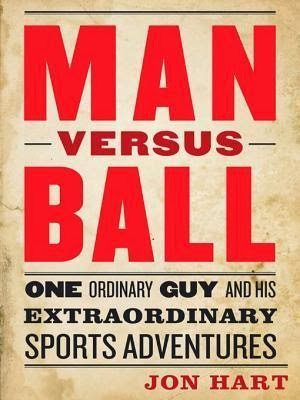 George Plimpton lives!
Well, let's say the spirit of this Paper Tiger does. Plimpton believed in the "you are there" participatory journalism that's hard to find these days.
That's why Man Versus Ball: One Ordinary Guy and His Extraordinary Sports Adventures fills a void.
Author Jon Hart shatters a fantasy too many baseball fans might have harbored. Wouldn't it be sweet to be a ballpark vendor — free games and leftovers?
Hart worked at Yankee Stadium, Shea and CitiField, even the Boston Red Sox spring training.
He didn't glean lots of baseball tidbits in his service. However, Hart found a vendor during the 1996 World Series who was buddies with the older brother of outfielder Paul O'Neill.
Early on, we find out that vendors have little time for on-field action. Hart observed Jerry Seinfeld outside a suite before several Mets games. That's it.
The people who choose vending, the drunken fans, the commission-only pay…Hart spells it all out. Willie and Waylon should sing, "Mama, don't let your babies grow up to be vendors."
While attending mascot school, the instructor led Hart on with tales of the Mr. Met job becoming open. He wound up with a brief gig at the elementary school, wearing the costume of the Newark Bears independent league baseball team.
My favorite words from Hart came on page 162. From his "annoying things that customers do" list came this warning:
"Someone always asks for ingredients. Who really knows what's in the pretzels–or the dogs, for that matter. Here are the ingredients, in short: IT'S CRAP!"
Hart chose a tough road to travel with this title. Fans of just one sport will be peeved that he writes about the other sports. Worst of all, he isn't a celebrity name-dropper. Instead, he's telling the stories of the unknown sports lovers, those people who'll take any job to be near professional competition.
Based on Hart's showing here, I'd be first in line for his next baseball-only memoir.