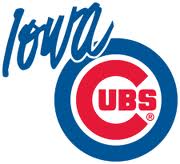 My autographed Bob Feller ball was a gift. A gift from the Iowa Cubs. I attended their 2006 promotion, thinking it was too good to be true.
It's true. In fact, it's an Iowa tradition. Monday, Aug. 22, is the next autograph extravaganza. Free signed baseballs to the first 2,000 fans. This is worth a trip!
Here's the inside story from Iowa Cubs broadcaster Randy Wehofer:
"We finally have everything prepared for the giveaway on Monday. We'll have 2,000 baseballs that we are giving away and it took quite a long time to put each in a bag, with a corresponding COA to identify the autograph, and seal each with a Subway sticker for our sponsor. Below is the complete list of autographs featured in the giveaway. Most are from players that were with us during the season. Some have signed more than others depending on how long they were here. Also included are some from most of the guys that did ML rehab with us including Darwin Barney, Jeff Baker, Marlon Byrd, and Reed Johnson.
I looked into when the giveaway started and was told it was 2006, so this is the sixth year. We've probably given away at least 10,000 baseballs over the course of the promotion."
The following players autographed baseballs:
Justin Berg
Two to-be-named Iowa Cubs will be signing free autographs near the Gate A concourse that night from 6-6:30 p.m.