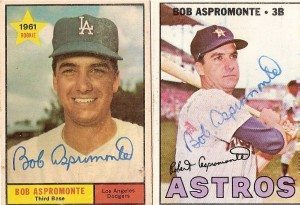 Sure, Bob Aspromonte owns the stats to back up a 13-year career in the majors.
A few feathers in his baseball cap, worn 1956 and 1960-71…
* NL record for consecutive errorless games by a third baseman (157, in 1962)
* NL record for fewest errors (11) and highest fielding percentage (.973, also in 1964)
* Houston franchise record for career grand slams (6, later matched by Jeff Bagwell)
Interestingly, "Aspro" didn't quote statistics when asked about some of his memorable career moments. For instance, regarding his debut with the 1956 Dodgers, this Brooklyn native and resident recalled:
"Taking the field in a Brooklyn Dodger uniform as a 17 year old kid just out of high school, sitting alongsdie Jackie Robinson, Pee Wee Reese, Gil Hodges, Duke Snider and many other superstars, are some of my greatest memories."
Aspromonte's devotion to a young fan in need inspired the 2008 docu-movie "Blind Faith: Bob Aspromonte," one installment of "Amazing Sports Stories," seen on FSN.
Bob promised a boy who had been struck by lightning on a Little League field that he'd hit a home run for him. Not once, not twice, but three times. The happy ending is recounted in this fine Memphis newspaper article. The legend remained largely untold for more than 30 years. I wanted to know if Bob's Houston teammates had any idea of what happened.
"Gene Elston our announcer made the players aware of the Divine Intervention story."
The Astros wound up on the other side of a headline in 1968. June 9 was declared a National Day of Mourning after the assassination of presidential candidate Robert Kennedy. Team owners insisted on playing. Aspromonte, Rusty Staub and Dave Giusti sat out the game in protest. While Houston played, no Astros challenged their absent teammates.
"They completely understood how strongly we felt about the National Day of Mourning for Robert Kennedy."
All three players were dumped from the Houston roster at season's end.
Bob and his brother Ken Aspromonte found fulfilling careers beyond baseball. Both are retired and live in Houston.