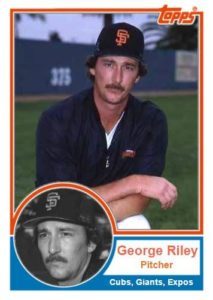 Greg Corrales would be a great hobby coach.
On www.sportscollectors.net, many questions were posted on the status of
George Riley
. Had ANYONE written to him in recent months? Was he still signing?
Greg solved both mysteries with his above-and-beyond effort. He made custom cards for Riley, complete with detailed, well-research and finely-written career highlights.
Next, Greg asked a question and included cash. I'll let Greg tell the rest:
"I received the following from George Riley today, which I thought might be of interest to you.  In response to my question about what advice he would give to high school pitchers, he had this to say:

 

"I would tell all athletes to get school in first.  You never know [if you'll] get hurt.  And also, you must maintain your concentration to the max, and success will come.  Work very hard at what you decide on a position.  Pitchers, do a lot of curls.  I always had a twenty-pound dumbbell with me at all times.  Good luck."

 

Then he went on to add the following:

 

"In the year 2011, I got colon cancer. Then my friend of sixteen years had a spinal cord stroke. Living with her [illegible] paralyzed waist down. I had to give up my [illegible]. If possible if you could help a little, no job, no car. Thanks for the great gift."
Greg's highlight reel includes many great moves, such as: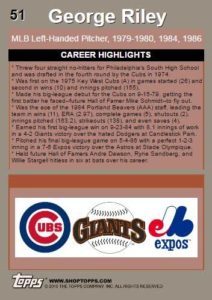 1.
Never assuming
. How many people look on a hobby forum, expecting someone else to be the first collector to report a successful breakthrough? Past stats aren't always a guarantee of whether you'll get a response or not.
2. Doing the homework: Check out that card back! I wonder if Riley himself could have quoted all those baseball achievements. That research effort has to win the hearts and minds of iffy signers.
3. Giving first: Money isn't the only choice, although someone in distress like Riley would key on such a gift. Find something off the internet about the player to print out. Send a duplicate card and tell the person to share it with another fan-collector.
A standing O of gratitude goes to Mister Corrales!