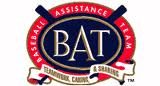 Put this one in your e-mail address book, please.
Last week, when I learned about Cubs pitcher George Riley's need from collecting friend Kohei Nirengi, I knew the baseball family would rally.
My first stop was www.BaseballAssistanceTeam.com.
Don't assume that all former players know about BAT. Financial aid is available, all granted on an anonymous basis.
If you ever receive a reply like Mr. Riley's, fast help awaits.
Just e-mail the details, including a contact address of the retiree in need, to
I received an immediate confirmation e-mail that an aid application would be mailed to Mr. Riley.
Coming Wednesday: Saying goodbye to Phillies pitcher Dennis Bennett