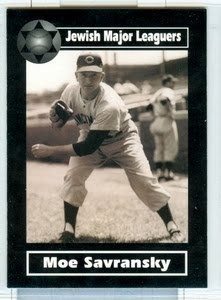 Moe Savransky squeezed a lifetime of memories out of a one-year major league career. Don't think Savransky pitched "only" for the 1954 Reds. His recollections could rival any all-star. Savransky wrote:
"In 1948, when I signed with Cincinnati, I signed a major league contract and traveled with the Reds until July 5th and then went to a minor league team to end of the 1948 season. I went to spring every year with the Reds and did well in spring training but in those years they didn't bring us young up so fast. They preferred for us to get more minor league experience. In 1951. I came up to the Reds from Buffalo in the International League 'triple A' after our season was over. They called a cup of coffee. I was in the Army in 1953 (Korean war) and returned to Reds in spring training 1954 and had a great record and was notified when we were heading north to Cincy that I made the team by Gabe Paul the GM and Birdie Tebbetts the mgr. Of course, I was elated. In the day the Reds always played a day before any other (as they were the first big league team). Opening day was exciting and I was in the bullpen.



"When I played amateur ball, I played first base and outfield, as I was a good hitter. In 'A' Ball in Sally League I hit .325. The hitting champ hit .326. At Buffalo Bisons AAA I hit .278. At the Reds in 1954, I hit .500, 1 for 2. I could've been 2-for-2. I hit a shot to left center in front of the scoreboard. The left fielder was playing out of position in left center and caught the ball. My hit I got off Milwaukee pitcher was Gene Conley. A pretty good right-hander. (Incidentally, also played pro basketball, 6-foot-9).
The out that was caught was off a Hall of Fame pitcher, Robin Roberts of the Phillies, recently passed away. If you look it up, I scored more runs than at-bats, because I was fast. Tebbetts used me for a pinch-runner and scored a couple of times."
Concerning my Sally League days in 1950, I was 15 wins. I had four shutouts in a row: a 4-hit shutout, 2-hit shutout, a NO-HIT shutout on July Fourth and one-hit shutout. My manager, Gee Gee Walker (ex-major league outfielder) wanted the Reds to bring me up. I was 19 years old. Head scout Pat Patterson said no, he's young. Let him get more experience.

"My most exciting game I came in relief was against the Philadelphia Phillies. Robin Roberts was pitcher for the Phillies in Philly. The pitch he threw was to Bobby Adams (3rd base). Adams hit in the upper in left field. Roberts proceeded to retire the next 27 batters. I came into the game in the fifth inning. We trailed 3-1. I faced nine hitters, got all of them and left the game for a pinch-hitter. The final score was 3 to 1. It was a thrill to be a part of historical game."
Moe's recall of the game isn't exact. The fine fellows at http://www.retrosheet.org/ fill in the gaps with their accounts of the Reds-Phils matchup. What's important to remember is that baseball still has Moes, the men who relish every inning they were given. Make the most of their experiences, while they're still here.