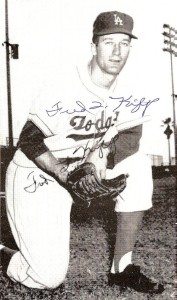 No wonder Fred Kipp is a member of the Kansas Baseball Hall of Fame.
Signed in 1953, the left-hander won 15 games and a Tri-State ERA title his first year as a pro. Kipp missed most of 1954-55 in the Army, only to distinguish himself with a team-leading 20 wins for the 1956 Montreal Royals. His teammates included Sparky Anderson and Dick Williams, who watched Kipp snatch league Rookie of the Year honors.
After a one-game debut with the 1957 Brooklyn Dodgers, Kipp joined the team in Los Angeles. His season in the sun came in 1958, going 6-6 in 40 appearances.
Kipp had mixed feelings about the team's Los Angeles home, the made-for-football Coliseum.
How did he feel in the "ballpark" with a left field screen just 250 feet away begging for home runs?
"I didn't get to pitch a lot (there), due to being left-handed," Kipp wrote. Still, his assessment of manager Walter Alston took only two words:
"Good man."
Ironically, Kipp relished swinging the bat in Los Angeles and elsewhere. His 9-for-36 offense wasn't typical for any pitcher.
"The first time up in the Coliseum," Kipp remembered, "I hit one off the screen in short left-center."
After a partial season with the 1959 Dodgers, Kipp's big-league days ended with an abbreviated stay with the 1960 Yankees. Without the interruption for military service, without being buried in the talent-deep Dodgers farm system, the Kansas lefty's fortunes may have been far different.