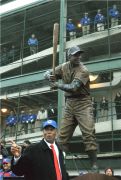 Mr. Cub at the 2008
Wrigley Field unveiling.
(Photo courtesy Lou Cella)
 Baseball has a Lone Ranger. Maybe a whole team of hard-to-spot superheroes!
I remember the masked man who saves the day and rides away quickly, while us grateful townsfolk mutter, "We didn't have time to thank him."
Fast-forward to sculptor Lou Cella. Outside ballparks, he's creating great baseball bronze artworks. He works with The Studio of Rotblatt-Amrany, often teaming with fellow artistic talents like Oscar Leon. Just when it's time to take bows, the sculptors are off to the next opportunity to three-dimensionalize baseball's past.
In the spirit of Thanksgiving, I want to attempt to thank these creators this week.
I received a wondrous letter from Cella. I wrote to him to praise his understanding and appreciation of baseball. He began by explaining his vision for the Ernie Banks statue, writing:
"While working on any ball player, I am always trying to focus on a particular period in their career. I am usually narrowing this down to a specific year, and, on occasion, an exact date.

Case in point: The Cubs wanted to depict Ernie Banks as he looked in one of his MVP years (1958 or 1959). The uniform changed a bit in 1959 to what it more traditionally looks like today. The Cubs also asked to have Ernie shown smiling at bat. This is not normal, of course, but as much of a purist as I am when it comes to baseball, I still consider capturing the essence and personality of the person a critical part of the total presentation. This is, after all, a piece of art, and certain 'licenses' are going to be taken.

Ernie loved the game was always seen as a man who was having fun playing the game. He comes across as a happy man all the time. Therefore, I was very pleased that the Cubs wanted to go this route. Would Ernie be smiling at bat? No, of course not. But it still works. I think it works better than if we had been strictly realistic. I would never have considered this with Carlton Fisk or Ty Cobb. So you consider the pose and the person as you do this.

Another element I added to the history of this piece is exactly when the moment in time was. Upon telling a close friend of mine, Gary Colobuono, what I was doing he became very excited and told me this story.

August 29, 1959 was the first time Gary went to a baseball game. His father brought Gary and his brother to Wrigley Field to see the Cubs take on the greatest left-handed pitcher ever, Warren Spahn (respects to Koufax) and the Milwaukee Braves. At a certain point, the Cubs were losing, 2-0, with two runners on base. With Ernie Banks on deck, Spahn walked the bases full. So, on August 29, 1959, with Warren Spahn on the mound, the Cubs down by two, the bases loaded, and Gary Colobuono in the stands with his Dad, Ernie Banks hit a Grand Slam.
When Gary told me this story, I immediately decided that any time I was asked when this statue was supposed to be taking place, it would be right before Ernie hit that Grand Slam off Warren Spahn. That is one example of my understanding of baseball. A father, a son, and for them, a moment that will live forever."
Enjoy this 2009 feature detailing Cella's college days and his Illinois connections.
(Thanks to http://www.retrosheet.org/ for the Banks grand slam report.)
Coming Wednesday: Sculptor Cella's views on collectibles.