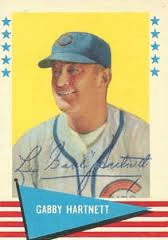 This autograph is
on display at
www.Baseball-Almanac.com.
It's a great site to find
tons of choice signatures.
Happy spring training, everybody!
Before looking ahead to the 2014 season, I wanted one last look at 2013 through the eyes of a hobbyist.
One of the smartest, most talented autograph collectors I know is Rich Hanson. Here's his take on the hobby year that was.
"Regarding baseball, my first love: Autographing through the mail is getting tougher and tougher with more and more players charging fees for what used to be a fan-friendly courtesy. TriStar was one of the early culprits, charging hefty fees for top prospects signatures, and now Chris Potter has lined up an impressive stable of retired players.
Don't get me wrong;.I've done business with Potter and find him professional and accommodating, and I've used him to fill in some of the fan unfriendly players who would never sign before and now only do so for a fee. The trouble is, the formerly good signers see these guys getting paid and say "why shouldn't I?" Overall, it's been bad for the 'through the mail' autograph hobby.
I'm having a great deal of fun writing to authors and poets, putting together double-sided 8x10s about them and their work. I get a lot of real nice, personal responses. The one that blew me away was a lady (whom I won't mention to spare her mailings in hope of receiving the gift that I did) who was one of the finalists for the National Book Award in poetry. Not only did she sign my sheet, but she sent me an inscribed hardcover copy of her newest book.
My favorite baseball response was
Eddie Gamboa's
. I put together a double-sided 8×10 about him and his feat of hurling a no hitter. Not only did he sign the sheet I sent him, but he sent me back the lineup card from the day of the no-hitter.
My favorite baseball autograph of the year. The Christmas present of the paper signed by Gabby Hartnett and 5 other 1930 Cubs that Nancy got me for XMAS."
Thanks, Rich!
Rich didn't mention the poetic irony of Hartnett's 1930 signature. The next year, photographers caught Hartnett signing an autograph for Al Capone. The commissioner warned the catcher about having his picture taken with shady characters. Today's players may have sworn off signing all autographs (at least freebies).
Speaking of spring training, now is the time to fine-tune your letters. While it's unlikely you'll get a bonus hardcover book of poetry from any players, your letters make a difference. First, they convince someone from baseball's family that a response matters. Secondly, your quality letters keeps the readers reading. They'll keep opening more envelopes, wanting to keep the good feelings flowing