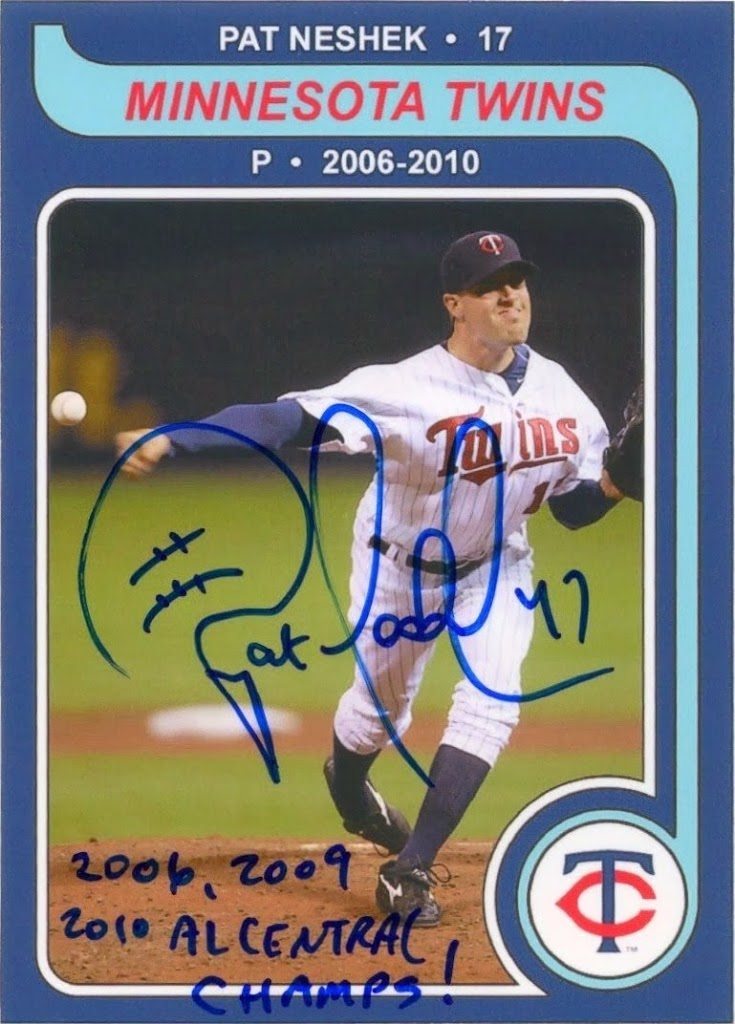 Sure, Pat's an autograph all-star.
However, I predict more
above-and-beyond signatures
for these Cote customs.
I swoon over customized cards.
It's not simply a matter of seeing a photo for the first time. It's showing the player depicted that you created a work of art, all because of him.
Dan Cote
is creating some beauties for his
Signs of Minnesota
blog. Of course, he's covering all Minnesota sports (even on the college level).
Here's the second cool part of his project:
Check out his blog. If anyone wasn't sure about signing, they could investigate him online. He's adding a nice biography of each signer, even including playing stats.
If I was a one-year wonder or cup-of-coffee guy with the Twins, I'd be taking any immortality that I could get. Knowing that my autograph is treated as a bit of baseball history, not as just another tally for someone's "world's biggest collection" goal, would compel me to sign. Most players succeeded with goals. They should relate to Dan's goals, too.
Furthermore, as the fear of everyone being a dealer grows, having such a blog proves that Dan's a legit, sincere collector and fan.
At the risk of sounding like my old algebra teacher, I've got to say it: Keep showing your work, Dan!. It's inspiration for us all.