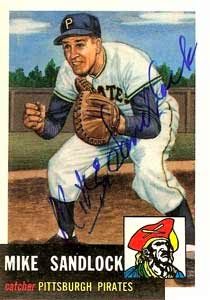 Find great authentic autograph
examples, career stats and
other super insights at
www.baseball-almanac.com.
I got Mike Sandlock in 2010!
With the passing of 2010 of 102-year-old
Connie Marrero
this week, former catcher Mike is now baseball's senior alum at a mere 98 years young.
As you'll see by the letter above, I think Sandlock's crown should proclaim him as "oldest and FUNNIEST former player."
And the ever-trusty www.sportscollectors.net reported responses from Sandlock this month. Get him while you can.
For more great background on Sandlock, check out this stellar two-part profile by John Dreker at the
"Pirates Prospects"
blog.