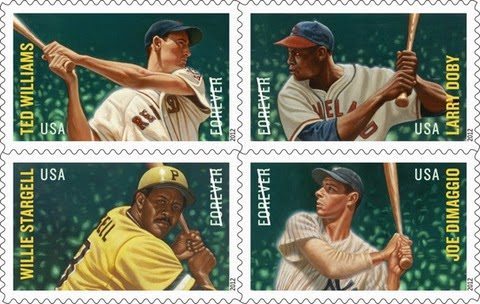 The USPS clerk showed me the newest commemoratives.
"Here's a Jimi Hendrix stamp, if you're an old hippie!"
Sadly, he had no funny suggestions for an old baseball fan sending letters to retired players.
Everyone holds their breath for the next baseball stamp.
Want to do more than wish? Amazingly, it's possible to cast a vote.
The Citizen's Advisory Committee
helps determine the Postal Service determine new subjects for future postage stamps. They meet four to five times yearly to look at the approximately 50,000 suggestions received yearly.
Check out their guidelines for subject selections. Send them a nomination.
(Not surprisingly, there's no e-mail address that I could find. If you want to suggest a baseball-related commemorative, it'll cost you 49 cents.)
Readers: what baseball-related subject matter would you like on your next postage stamps?