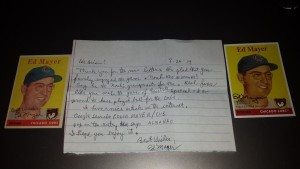 A tip of the cap to Ed Mayer, who has passed away at age 84.
I appreciated his past letter from 2010, one worth a curtain call. I praised his 25 years of public school teaching. Forever a teacher, Mayer was famed for sending back personal letters to collectors, praising them on their baseball knowledge.
Too often, obits reinforce how someone died. Here, I'd like to remember how Ed lived. Enjoy this feature showing one old Cub's gratitude. His wife even mentioned Ed's fan mail!