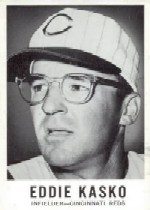 "Bob Sheppard just
announced MY name!"
Boston Red Sox manager Eddie Kasko landed a spot in the team's Hall of Fame in 2010. One of his achievements during his 1970-73 reign involved moving Bill "Spaceman" Lee from the bullpen to the starting rotation.
How did he cope with the pitcher's offbeat personality? Kasko explained in a kind letter:
"We got along fine. I knew when he was "jerking" people around — especially press writers. Just 'be ready to pitch.'
The book THE BALLPLAYERS described Kasko as "a laid-back practical joker." Did he recall one of his finest funnies?
"Sending [word to] my ex-roommate in St. Louis that he was traded to my team in Cincy."
He batted a sparkling .319 in the 1961 World Series for the Reds. Kasko didn't quote a specific hit in his favorite memory of that event, writing:
"Being introduced in Yankee Stadium by their heralded P.A. announcer and getting in the Series."