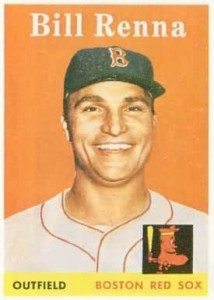 "Big Bill" Renna is still smiling. Just read between the lines of his letter.
His love of the game kept him going, even when pinch-hitting work was all he could find. In 1958, he converted 15 hits into 18 RBI for the Red Sox. Imagine Renna's joy as he recounts one success off the bench:
"Against Washington In Washington, I was put in to pinch-hit. the count was 3-0 — and I looked down at the third base coach. He gave me the hit sign. Pinky Higgins was our manager and he let me hit. I hit a home run on the next pitch!!!"

Even though his last game for Boston happened more than 50 years ago, Renna still savors every inning.
"I was very fortunate to be able to play pro ball. I wanted to be a ball player from the first time I was a kid!!! I feel bless that I was able to play — and play in the period of time that I did.

I think it was wonderful."
So are you, Bill.