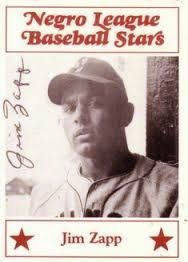 I spotted this on a 2006
website. Zapp had a knack
for small autographs that
would stand out without
ruining the look of a card
or photo!
An autograph may last forever, but the signer may not.
He received word from the son of Negro Leaguer Jim Zapp that his dad's health has ended his autographing days.
The letter Nick received was quite touching. It's clear proof that the fan mail mattered to Mr. Zapp. Additionally, his son wanted to find out about acquiring Allen and Ginter cards of his father.
A thought? Anyone who didn't get their A&G sent for an autograph should consider sending a gift to the Zapp family. A gift of thanks.
And, remember that letter. There are former players who appreciate us, too!