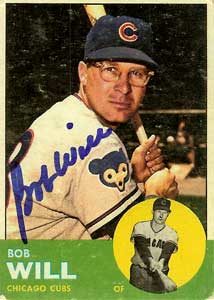 Ernie Banks
Ron Santo
Harry Caray
There's one more name missing from that roster of departed Cub characters.
I'll never forget Bob Will, the outfielder whose 1960 starting job was won by future Hall of Famer Billy Williams. Nonetheless, Will never stopped loving the Cubs.
I'm flattered he read this blog before his death from cancer in 2011. I enjoyed a couple of conversations with Bob. Near his final days, I was able to convince several former Cubs to call their teammate for one last stroll down memory lane. Even announcer Pat Hughes was among those who shared a telephone chat with him.
Bob never stopped loving the Cubs. He would have loved the 2016 World Series outcome, too.