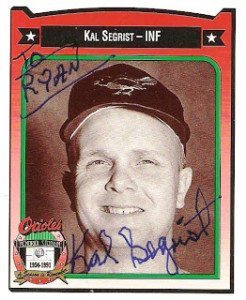 Don't let the card companies tell you the players to write to.
Kal Segrist was another star signer in that quickly-shrinking roster of 1950s players. The only widely available card of Segrist came in 1991, the Baltimore Orioles Crown Oil retrospective set.
A former 1950s Yankee? I expected hundreds of contacts reported on www.sportscollectors.net. Nope. Just 39 attempts, with 33 successes. I blame the lack of a Topps card for why more never bothered writing him.
One of my favorite baseball writers, Nick Diunte, did an all-star job crafting a remembrance of Segrist.