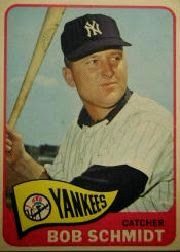 It's been 50 years since he
was on a baseball card. One ailing
catcher isn't ready to forget
fans yet.
I'd nominate Mrs. Schmidt.
Justin Evans at the popular
Baseball Autographs
Facebook group posted a questionnaire response from Schmidt's wife.
Justin hadn't gotten the word that Schmidt's health lessened in 2013.
A stroke and Parkinson's disease make autographs impossible for Schmidt. However, despite not being able to sign, there's no stopping his devotion to the game.
After all, this is someone who ranks at 101 replies in 106 collector attempts at the amazing www.sportscollectors.net website.
Five questions were answered, followed by the closing in a wife's handwriting:
"We thank you for being a fan. Sincerely, Mary Ann Schmidt."
When you get an autograph or a note back, remember that two people may be deserving of gratitude. A wife may be just as delighted as you with the idea of an autograph. Why?
Because she remains that retiree's biggest fan.