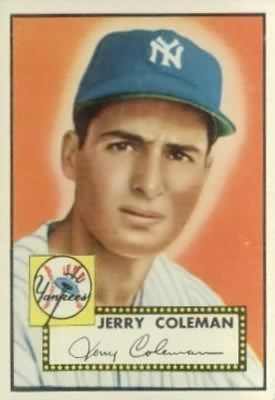 Some recall him as part of the Yankees dynasty. Or the voice of the San Diego Padres. Others pointed to his courage serving in World War II and Korea.
Jerry Coleman, who passed away Sunday at age 89, didn't want to hear those things from me.
I contacted him years ago for a book project. He called me back, polite and helpful.
Trouble is, he seemed humble beyond belief.
Coleman did his job. Even after describing countless games as a broadcaster, he wasn't ready to wax poetic about his baseball or military lives.
Checking out the always-awesome www.sportscollectors.net, results state that Coleman was returning autograph requests less than a month before his death. He signed for 374 of 386 TTM requests.
I'm finding tons more examples of how he signed in-person for one and all.
Jerry Coleman served his teams, his country and his fans.