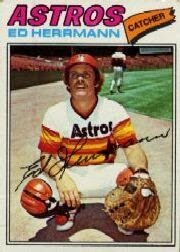 Loved that "H"
The former catcher touched many lives of fans and collectors.
The 67-year-old's December death from prostate cancer was a wake-up call to the collecting community. He was returning autograph requests in failing health, even this autumn. The stellar www.sportscollectors.net website credited him with 198 responses in 203 recorded attempts by hobbyists.
I'll never forget all the knowledge "Fort Herrmann" shared for free on his baseball tutoring website. An unheralded coach, he shared one universal truth:
"You'll never hit the ball with the bat on your shoulder."
Take your swings this year, readers. Write to them.Later isn't an everlasting option. Leave regrets on the bench.
Make Ed smile up there!