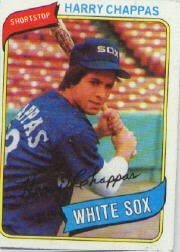 Hope For Harry?
I asked Harvey Meiselman for news about his 2014 Baseball Address List, as well as his own year as a collector. Here's his reply.
Q: How up to date will the 2014 address list be?
A: I processed my address database with the Post Office on December 6th with their National Change of Address Update Service and then processed all of the changes that came back. When that was finished I started to put all of the address lists together for the printer and got the print files to the printer on December 12th. I received my first supply of printed lists this past Friday, December 20th, and today I'm starting to pack orders which will be mailed out on

January 11th

. So, you see, that I have a much shorter time lag in having my coil bound lists produced vs Smalling and his printed soft covered book. My lists will be much more up to date when I deliver them than Smalling's are, which I estimate are sometimes 3-4 months behind.
From the time I finish processing my address database to putting the print files together and getting the initial address list order printed and delivered to me is less than two weeks. I'll estimate that there will be about 20 or so deaths in baseball, football and hockey noted in the list from the first week or so in December. Plus, what I usually do in January is send out an email to all my customers that will include all of the changes in address (either address updates or deaths) that have happened since I sent my files to the printer so are not updated in the actual printed list. Those will be sent out around

January 20th

or so.
Q: You're not just an address publisher, you're a fellow collector. Do you have one TTM success to inspire us into the New Year?
A: You know how I love to track the really obscure ballplayers that just don't want to be found by autograph collectors? Well, this year my project was Harry Chappas who broke in with the White Sox in 1978. I finally tracked him down in, of all places, Boynton Beach where I live. I've had three successes at his mailing address so far personally and met him for coffee a few times and discussed autograph collectors and the memorabilia field.
He told me that he receives a ton of letters that include 10 or more items to be signed and he got to feeling that they were going up on eBay to be sold. Needless to say, he trashed them. I'm pretty sure I convinced him that most collectors are not like that and he probably will be signing requests with one or two items, not ten. Harry Chappas is on everyone's want list.
Thanks to Harvey. I hope we'll all be as bold in our collecting in 2014. Get in the habit of including in your letter WHY you want that one person's response. If you don't, they might assume the worst. Set a good example, and you'll keep the line of communication open for all of us.